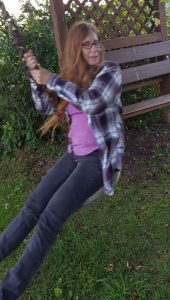 Life is precious! I thought I knew this and I even changed my health over 7 years ago when I lost over 40 lbs. My metabolic age was in the 20s but I was actually in my 50s. I thought I was a tune to my body but last year a massive heart attack snuck up on me.  I thought I was grateful for every day and yet after that heart attack boy, I am ever more grateful!
But after the cardiac arrest, I doubted that it was worth doing all I was doing before to be the best I could be. Doctors didn't know why it happened. I didn't see it coming I was hiking 2 weeks prior and was sightseeing the day before. Tests didn't find any blockages. Hmmm.
I began to eat whatever I wanted. Even though I thought the potions were not large, the foods were actually changing my metabolic health and my triglyceride levels have soared.
Months later I am back to realizing that while I am alive I am ready to live my best life. It isn't easy to change your lifestyle without some help. I am going back to the plan I used to change my health over 7 years ago.
It is only within the past few months though that I have taken affirmations more seriously. When you can speak something to your mind and convince your mind that even if you are not there yet – you are. Your mind subconsciously begins to help you in the right direction. I can use all the help I can get, how about you?
Have you ever taken a breath of air in and realized how great it is to be alive? Is it worth it to you to do the best you can to live your best life physically and mentally? Life is precious let's work daily on this affirmation to live our best lives and if you are a blogger or entrepreneur then share your path with others to inspire and help improve lives.
Affirmation:
My body and I take care of each other.
 I am lucky to be alive. That knowledge propels me forward each day. I want to work hard, play harder, and live life to the fullest. In order to do all of these things, I take good care of my body. After all, my body takes great care of me.
I recognize that the more closely I pay attention to my body, the better my body sees me through challenging times. Considering everything my body does for me, taking special care to exercise regularly, eat right, and get enough sleep seem like a small price to pay.
I am thankful for everything my skin does for me. My skin is tough enough to keep out bacteria and viruses yet soft enough to make my body appear supple, smooth and healthy. My skin is strong but also pretty, and I am grateful for both attributes.
I am also appreciative that I can physically do whatever I choose.
When I drop something on the floor, I can easily bend over to pick it up. Sometimes, I want to perform hard physical labor like washing the car or scrubbing the sidewalks. I can do those things, thanks to the strength and flexibility of my body.
Today, I am grateful for how much my body takes care of me. I plan to continue to provide the very best care and nourishment for my body that I can.
Self-Reflection Questions:
Do I take care of my body so that it will function well?
If not, what sorts of things prevent me from taking good care of myself?
How can I ensure that I will strive to take better care of my body?
Have questions? Reach out to me via FB messenger or contact me here.